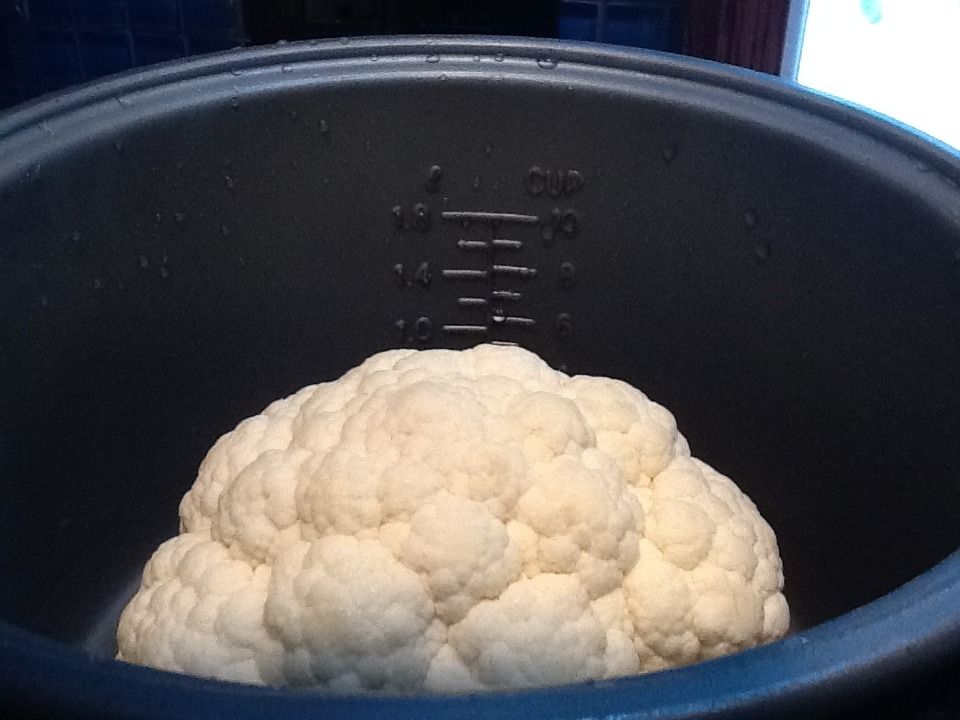 I spent all last week behaving badly in Las Vegas, so I was happy to get back and on track with this great recipe!
OK, this is what you will need for this week's recipe, WHOLE CAULIFLOWER WITH SAUSAGE
1 cauliflower (about 1 1/2 pounds) cored
Salt
8 oz. sweet or hot pork sausage, casing removed
(I made my own chicken sausage)
2 T olive oil
1 onion, chopped
1 or 2 fresh hot chilies (like jalapeno or Thai), seeded and chopped
Black Pepper
1 cup bread crumbs, preferably whole grain and homemade (fortunately, I baked whole wheat bread last week)
1/2 cup chopped fresh parsley
1. Put the cauliflower in a steamer above 1 to 2 inches of salted water. Bring the water to a boil, cover, and reduce the heat so it bubbles steadily. (I used my rice cooker, which is also a steamer, and set it on 20 minutes) Cook until the cauliflower is just tender enough to be pierced to the core with a thin-bladed knife (no longer). Because it's large, the cauliflower will retain quite a bit of heat after cooking, so it should still be ever-so-slightly crunchy when you remove it from the steamer. Total cooking time will be 12 to 25 minutes, depending on the size of the head. Drain the cooked cauliflower well.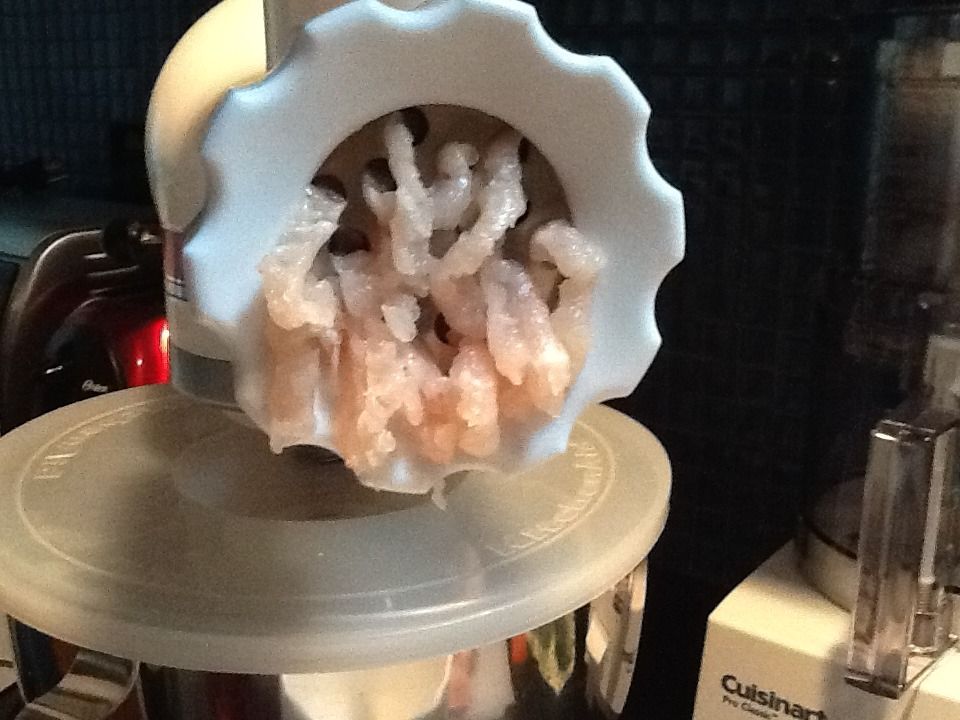 Homemade Chicken Italian Sausage
  2. Meanwhile, put the sausage and oil in a large skillet over medium-high heat. Cook, stirring to break the meat into small pieces, until no longer pink, 5 to 10 minutes. Pour off all but 2 to 3 tablespoons of fat. Add the onion, chili, and a sprinkling of salt and pepper and cook until the onion is softened, 3 to 5 minutes. Remove the mixture from the pan with a slotted spoon.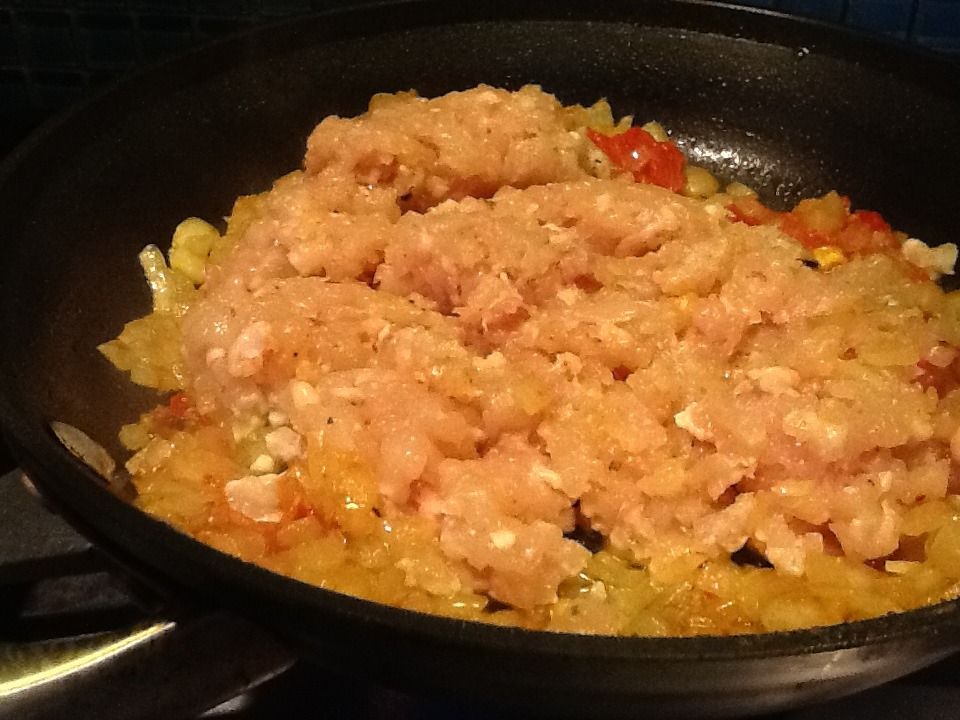 3. Add the bread crumbs and parsley to the skillet and cook, stirring until the bread crumbs are crisp and golden brown, about 5 minutes. Return the meat to the pan, stir, and taste and adjust the seasoning.
4. Break up the cauliflower head a bit with 2 forks, scatter the sausage mixture over all and serve.
WHOLE CAULIFLOWER WITH SAUSAGE AND TOMATOES
What you lose in bread crumb crunchiness, you make up for with bright flavor. In Step 2, after you cook the sausage mixture, add 2 cups chopped tomatoes (canned are fine; drain them first). Cook and stir for another 5 minutes or so, until they become slightly thickened and saucy. Proceed with recipe.
OK, so I did a little combination of the 2 versions and I added 1/2 of an oven dried tomato I had jarred in olive oil. My version is close to the original.
I served the Whole Cauliflower with "homemade" Sausage with a grilled plum, goat cheese and pea shoot salad, baguette, butter and a glass of pinot noir.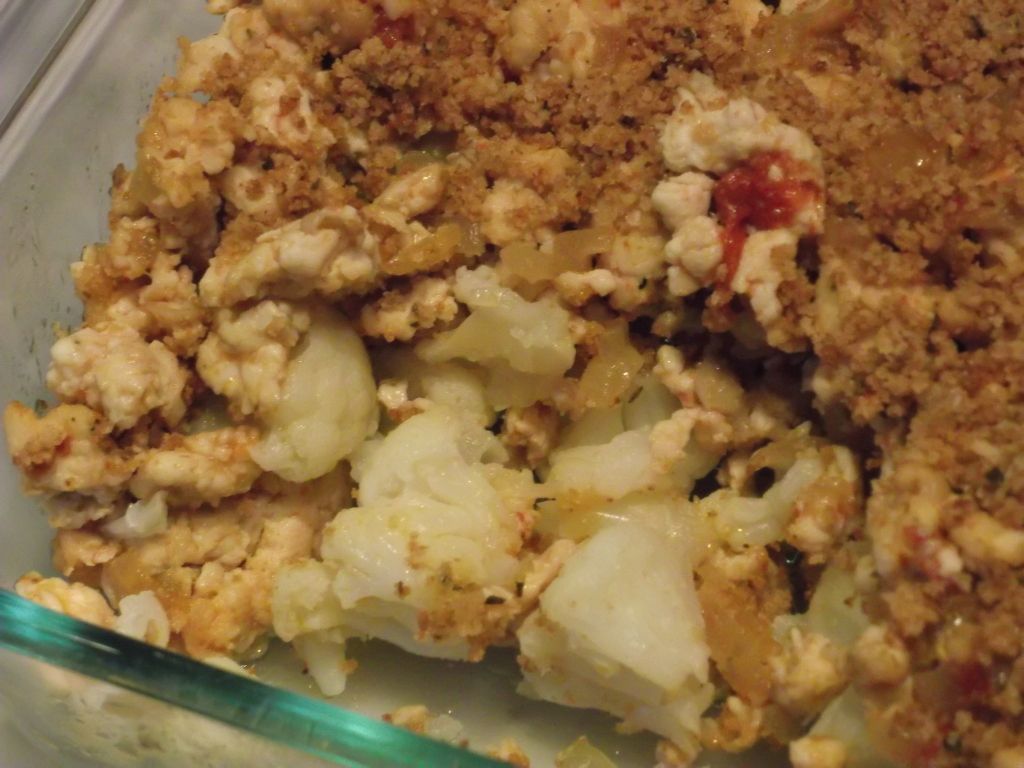 To see other versions of this recipe go to
http://thefoodmattersproject.com/2012/09/24/whole-cauliflower-with-sausage/