Superbowl Sunday...Go Hawks!!! Whoops, I know, the Seattle Seahawks aren't in the Superbowl. Well, once again, I'll be watching for the ads and the halftime show. This year, hunky Tom Brady isn't even around for eye candy.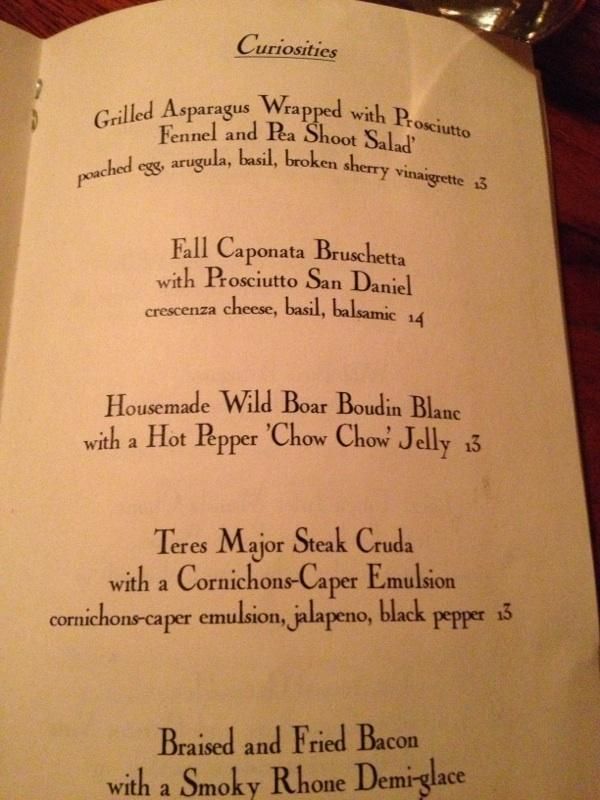 Congratulations to New Orleans for hosting the Superbowl, I am sure the town has been a bigger party than usual this week! You know what? We have a little bit of New Orleans here in Seattle. Not in a flash your boobs and you get beads way, but in a yummy food way at Toulouse Petit Kitchen and Lounge. Located in the busy Lower Queen Anne area, Toulouse sits right at Queen Anne Ave N and Mercer Street. Parking is what it is, but if you're not in the mood to drive around, there are a few parking lots close by. So, if you don't make a reservation for dinner, get there around 5pm or sit at the bar. The place fills up quickly. Order a Sazerac...mmm...they make them strong, and take your time deciding what to order, the menu is huge! The Wild Boudin Blanc caught my eye immediately. My friend CeCe makes this homemade and I've been dying to have it again.
The Boudin was delicious. So was the Frisse Salad with poached egg and lardons. I had bits and bites of the other menu items my husband and son ordered; Crispy Fried Chicken Gumbo, Housemade Boar-Garlic Sausage with Tomato Basil Jam, Savory Crawfish Beignets, Dungeness Crab Imperial, ...OK, stop! We ordered too much, because, after all that and some other items I forgot to mention, I had the Housemade Ricotta Gnocchi, OMG!!! SO GOOD!
The service was great, the seating is a little comfortable, the decor is sylish, worth it? "YES!" We will be going back...FOR SURE!!!