Years ago, my mom would drive my sisters and I to New York Bagel Boys in Bellevue just to get "really good bagels, freshly made". My mom would pick Plain, Garlic and Salt bagels. Those bagels were the best, chewy and dense. So Good! New York Bagel Boys closed a long time ago and some company bought the rights to their name and started selling bagels in the local grocery store...NOT THE SAME. There are a few bagel places that are fine, but NOT THE SAME.
To be honest, I haven't given bagels much thought over the years, I just think of bagels as the vessel that hold cream cheese and lox, which is plentiful in the Northwest. Anyway, this past Mother's Day we were in New Jersey, and my brother-in-law and nephews, treated my sister and I to a lovely bagel brunch with all the trimmings! Lucky me!!! What a treat and awesome bagels, no joke!
OK, back in Seattle, bagels...NOT THE SAME!!! The whole bagel brunch just stirred up all the memories I had of New York Bagel Boys. I bought some bagels from the store and they just got moldy after now one ate them. I bought a pretty good bagel from Blazing Bagels, which is my son's favorite, but a little too bready for me, if you know what I mean. I like warm, fresh and chewy.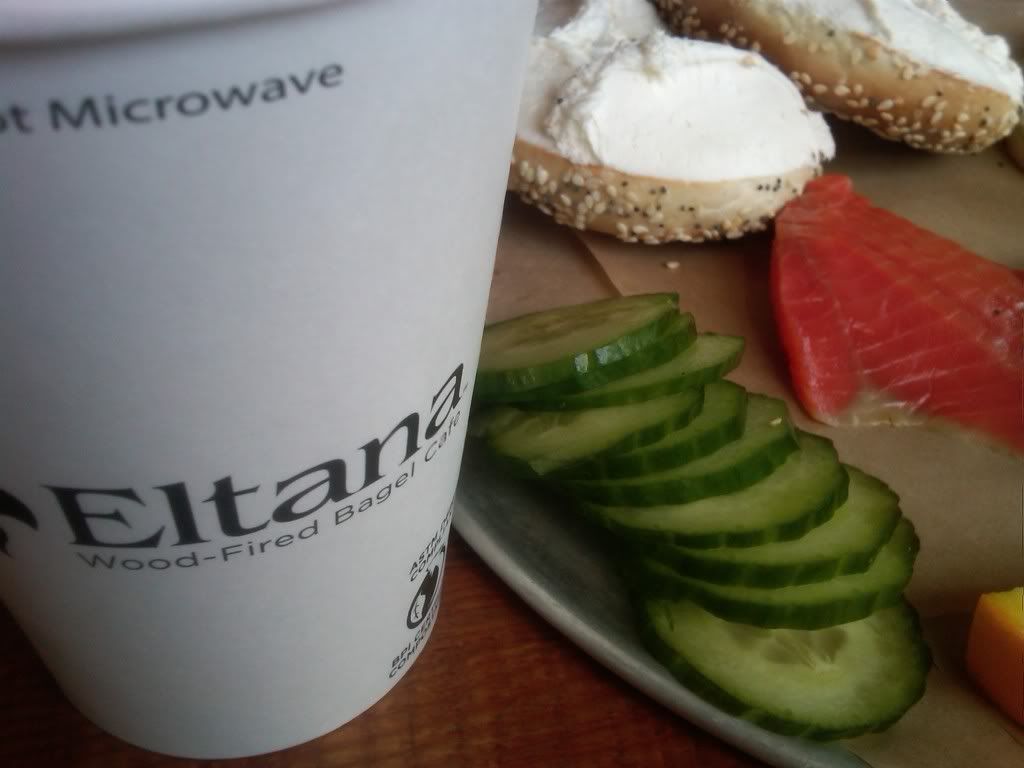 Eltana Wood-Fire Bagels. I know all my New York and New Jersey friends will not think these hold a torch to any of their favorite bagels, but for me, although they are still not the same, they are my new favorite. The bagels at Eltana are not huge, but they have a great texture and good flavor. I'm hooked!
The Everything Bagel at Eltana is great even without the lox, but get the lox and all the trimmings...YUMMY!
John got the fig apricot compote with his Plain bagel, a delicious alternative to lox. I've been to Eltana a few times. There are 3 in the area, but I've only gone to the one in Capitol Hill. If your looking for a good bagel, check them out!